10th Anniversary Celebration Events
10th ANNIVERSARY CELEBRATION GRAND SHOW

Time: Entrance at 18:40 pm September 7, 2014, Sunday, until 21:00
Location:UQAM Théâtre Marie-Gérin-Lajoie

For the occasion, guest performers, along with our students, will put on a huge show. We will invite representatives from the government, from the Chinese Consulate General in Montreal, sponsors of our various events, and outstanding members of various communities to participate as well. Throughout the show, we will award winners of our celebratory competitions. We hope that all of the attendees will gain a deeper understanding about our programs and our students' achievements, while enjoying a festive show.


Price:$50 VIP with cocktail from 17:40 - 18:40 pm, and
$35、$25、$15. students and families of Elite College can get half of the price.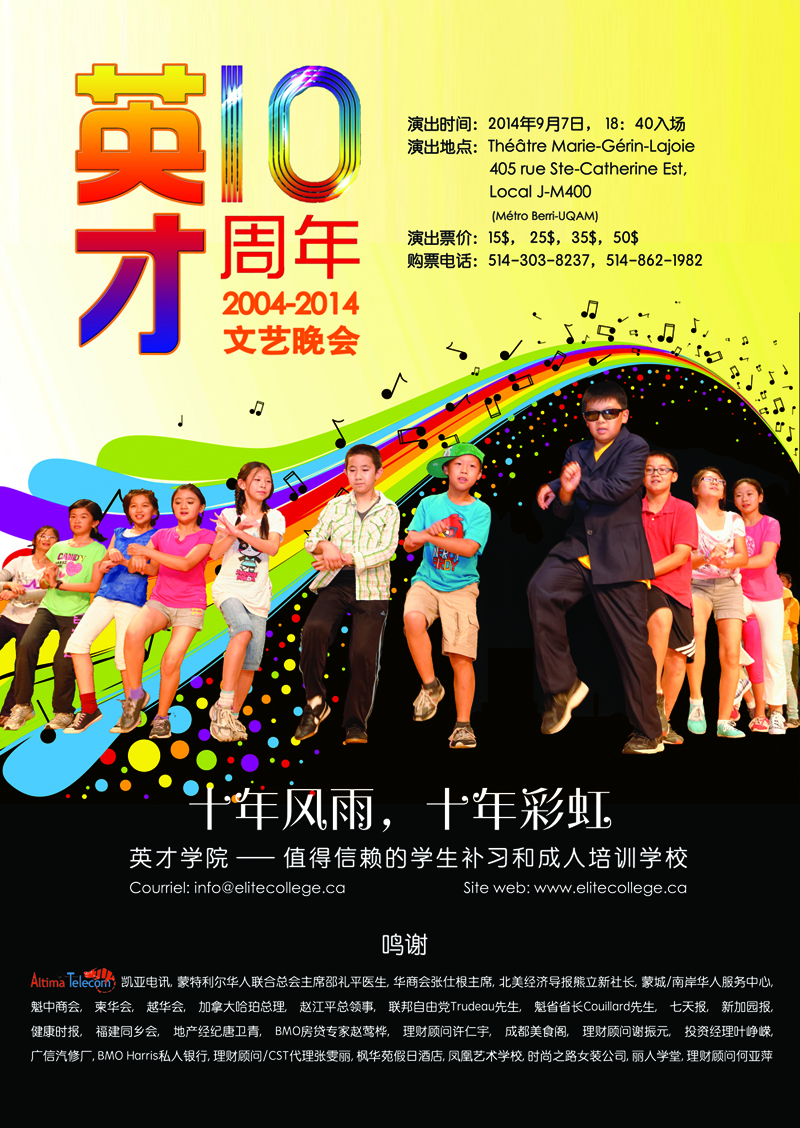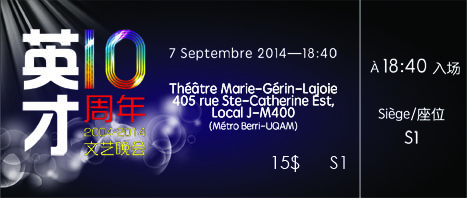 Ticket
Activity

Description

Schedule

WRITING COMPETITION

The writing competition aims to improve students' writing skills and to stimulate their interests in writing. The competition's themes are "My memories at Elite College", "Life in Montreal", and an open topic. Participants can write in Chinese, in English or in French. They are encouraged to submit more than one essay, in more than one language. Competitors will be divided into 3 groups: adults (including CEGEP and university students), high school/secondary students and primary school students. Each group is then divided into three language subgroups to make a total of NINE categories for the entire competition.

In each category, we will have 1 to 3 $200 first place winners, 2 to 6 $100 second place winners, and 3 to 9 $50 third place winners. Each winner will also be awarded a medal.

Winning entries will be published on Elite's website and in the newspapers. Excerpts will appear in our events album.

April - Announcement of the competitions

July 31 - Deadline for submission

August - A jury selects the winning entries

September 7 - Awards ceremony at the 10th anniversary show

PHOTOGRAPHY COMPETITION

Elite's photography contest's purpose is to stimulate creativity, to promote beauty, to encourage people to observe and capture life around them. The competition's themes are "My memories at Elite College", "Life in Montreal", and an open topic. Entries can be color or grayscale, single photographs or a collage, portrait or scenery. The contest is open to participants of all ages and cultures.

We will have 1 to 3 $200 first place winners, 2 to 6 $100 second place winners, and 3 to 9 $50 third place winners. Each winner will also be awarded a medal.

Winning entries will be published on Elite's website and in the newspapers. Excerpts will appear in our events album.

ARTS COMPETITION

The arts competition seeks to bring out the young artist's boundless talent and creativity, to promote technique and aesthetics, to develop appreciation for the arts. The competition's themes are "My memories at Elite College", "Life in Montreal", and an open topic. Entries can be drawings, paintings, crafts; they can be of any material, of any style. The contest is open to participants of all ages and cultures.

We will have 1 to 3 $200 first place winners, 2 to 6 $100 second place winners, and 3 to 9 $50 third place winners. Each winner will also be awarded a medal.

Winning entries will be published on Elite's website and in the newspapers. Excerpts will appear in our events album.

RECITATION COMPETITION

The youth recitation competition (prose and poetry) strives to promote Chinese, English and French literature, to test orators' mastery of language and oral expression, to garner interest in various types of writings. The text can be in French, English or Chinese. The topic is open, as long as the subject and language are appropriate and civil. The recitation can be solo, duo or in a group. The piece must be known by heart. Background music to the participants' discretion. The speaking time should be between 2 and 5 minutes. Open to students aged 7 to 17, divided into under-12 and 12-and-over categories.

In each category, we will have 1 to 3 $200 first place winners, 2 to 6 $100 second place winners, and 3 to 9 $50 third place winners. Each winner will also be awarded a medal.

April - Announcement of the competitions

June 30 - Deadline to sign up

July - Practice and preparation

July to August - Competition

September 7 - Awards ceremony at the 10th anniversary show

DEBATE COMPETITION

The debate competition aims to improve students' reading skills, logical thinking, research skills, expression, quick thinking and teamwork. The competition also seeks to strengthen interaction and cooperation between participants. The topic for each debate is chosen by Elite College, and the "for" and "against" sides are decided by random draw. Each side will be given preparation time. Competitors will be divided into 3 categories according to the language used in the debates, which are English, French, and Chinese. Students can choose the language they prefer. The debate competition is open to students aged 12 to 17. We will have awards for best debaters in each language category. Each winner will be receive a certificate and cash prizes.

10-YEAR ANNIVERSARY EXHIBITIONS

"Self improvement, and social responsibility": words Elite always take to heart. Under the direction of Principal Zhao, Elite College has grown into one of Quebec's largest tutoring schools for primary, secondary, Chinese and arts, a vocational education center and an international students services agency. Elite is now a comprehensive educational institution and enjoys an excellent reputation in Montreal. It has become a trusted children's tutoring and adult vocational training school. On the occasion of our 10th anniversary, we will hold a series of exhibitions at our 3 campuses, which will be in various formats and will showcase the history of Elite College. They will allow students to better understand their school, allow parents to appreciate the impact their choice can have, and provide for all an illustration of the importance of education.

The exhibitions will take place at all three campuses between June and December 2014.

10th ANNIVERSARY COMMEMORATIVE ALBUM

This is a full-color printed 8.5"x11" album. 3000 copies are scheduled to be published in September. This album will showcase all of Elite College's educational achievements, as well as published essays, interviews with distinguished students, and photographs of students' campus life. It will be issued to all former and current students, as well as to all friends and guests of Elite College.

May - July: Editing

September: Publication

CALENDAR

A color printed calendar, 30cm X 20cm. It can be hanged and written on. Each month will feature a photo illustrating an activity at Elite. Around 3000 copies are planned. Upon completion of the printing by the end of June, they will be distributed freely to students and friends of Elite College between July and September.

May - July: Editing

September: Distribution

BOOK ON CHILDREN'S EDUCATION FOR IMMIGRANTS

Currently being written and worked on. Aimed at both Canadian and Chinese readers.
Authors: Bradley Zhao, Ke Jie